Waltham Forest Strategic Education Partnership (WFSEP)
In Waltham Forest we recognise and promote the power of partnership working. Our partners are families, education providers, the local authority and other key professional groups. We all have a role in ensuring that the Waltham Forest offer is amongst the best in the country. The Waltham Forest Strategic Education Partnership (WFSEP) enables all our partners to work together as effectively as possible.
The WFSEP aims to:
Agree and deliver a shared ambition and strategic priorities for education in Waltham Forest
Improve outcomes for children and make Waltham Forest a centre for excellence in urban education
Establish a framework for robust school-to-school support in the borough
Maximise use of resources by identifying opportunities to collaborate
The remit of the WFSEP is as follows:
Approval and monitoring of a borough wide education improvement strategy
Evaluation of educational performance and agreement of ambitious borough targets
Review of data to identify areas of provision needing further improvement
Development and approval of key policies linked to education improvement
Establishing and monitoring time related work-streams (solutions groups) linked to priority areas
Receipt of reports into key national or local education policy developments
Overview and administration of funding from the local authority or partner bodies
Overview of quality assurance of Council services for schools
Strategic issues
The WFSEP monitors six core strategic issues: Achievement; Funding; Places and School admissions; Inclusion; Safeguarding; and System Improvement. Each strategic issue has a key forum as illustrated in the diagram below.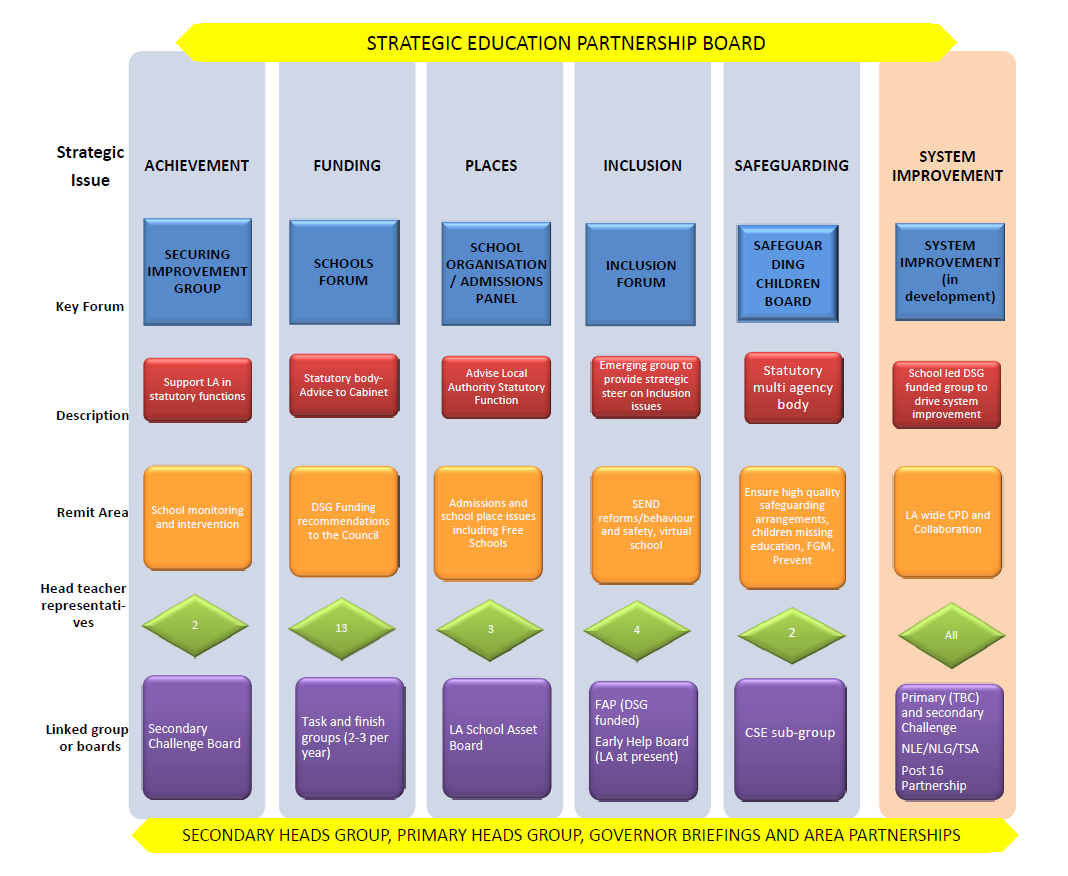 For further details on these forums, please click on the links below:
System Improvement (in development)
Logged-in users can view the membership of the WFSEP which is attached as a downloadable document at the bottom of this page.
Download the documents from this page
Register on The Hub to download any documents/files that may be attached to this article - it's free and takes just a few moments. As a visitor to the site you can read the articles but not download any documents or files. However, as a registered user you can download any files, in addition to what is written on-screen.
Last updated:
Thursday, 18 February, 2016
Last updated:
18 February 2016 by Barry Fong