Where we are
There are 50 primary schools in Waltham Forest, including 13 academies, one free school, seven voluntary aided schools and one voluntary controlled school. There are also three nursery schools. There are eight secondary schools that teach up to KS4, of which one is an academy and one a free school. The seven secondary schools that teach up to KS5 include four academies and one voluntary aided school. Two all-through schools teach from nursery to KS4.
Educational achievement in Waltham Forest has been improving year on year. The borough has seen significant improvement across many measures. The proportion of children achieving Key Stage 2 (KS2) Level 4 or above in reading, writing and maths is above England average, and Key Stage 4 (KS4) five A*-C grades were above national average for the first time in 2014. Attainment gaps at KS2 and KS4 between disadvantaged and advantaged were among the lowest in England in 2015.
Council-run focus groups with residents show that primary schools are broadly viewed positively, while secondary schools viewed as mixed and the overall standard of schooling is considered variable.
The Council's School Effectiveness Service (SES) has recently been refreshed and it aims to ensure the best possible standards of education for all children and young people in Waltham Forest. The school effectiveness team works alongside Head teachers, Principals and Chairs of Governors to monitor, challenge, support, highlight excellence and share good practice.
A team of School Effectiveness Advisers (SEAs) has been recruited and the advisers will be allocated to schools according to need and specialism. There will be at least termly meetings with the schools and clear outcomes and priorities for the self-improvement process. They will also work closely with governors' services to ensure that governing bodies are equipped with the skills to drive forward progress in the borough's schools.
The Primary Challenge and Secondary Challenge have been introduced which provide an opportunity for schools to benefit from peer-led improvement. The support from the SEAs is complemented by the peer support provided between schools.
The former School Risk Register is being incorporated into the Schools Information Dashboard. The SID includes educational attainment and progress data for each school along with Ofsted rating and other factors such as new head teacher, school leadership team, staffing, finance, safeguarding, health and safety, buildings, finance will be included in this document.
The information will be used to categorise schools as set out in the School Monitoring Policy. Where necessary the local authority will use its formal powers in relation to maintained schools to issue warning notices or intervene, to ensure the highest possible standards of education. If there are concerns about the performance of an academy or free school, the local authority will raise these with the Regional School Commissioner in the first instance.
The Borough's Virtual School exists to ensure that every child and young person in the local authority's care has access to a good education, including those placed in schools outside the borough. The Virtual School tracks the progress of every looked after child though regular monitoring sessions of their Personal Education Plan (PEP). The School also supports transition between phases of education.
In March 2015 there were 272 looked after children in Waltham Forest. It is the policy of the local authority to ensure that all looked after children (LAC) attend a school rated by Ofsted as good or outstanding. There is a huge differential in attainment outcomes, attendance and progression for LAC nationally. Provisional 2015 results show that 67 per cent of looked after children reached Key Stage 1 (KS1) level 2 or above in reading, 83 per cent in writing and 67 per cent in maths. At KS2, 56 per cent achieved level 4 or above in reading, 56 per cent in writing and 31 per cent in maths. Of those who took the exams, 16 per cent of the borough's looked after children achieved five GCSEs at A* to C in 2015.
The Council has recently commissioned a new model for Waltham Forest's Virtual School and it is hoped that this will lead to an improvement in outcomes for looked after children.
Primary
In August 2016, 21% of Primary schools were rated Outstanding, with 69% Good and 10% Requires Improvement. 91% of Primary pupils attend Good or Outstanding schools, an increase from 87% at August 2015.
The proportion of children achieving KS2 Level 4 or above in reading, writing and maths is above England average and the rate of improvement in overall achievement at KS2 has been faster in Waltham Forest than in other areas. Achievement is still slightly lower than in London overall.
Provisional primary level achievement in 2016 is as follows:
Those achieving the Expected Standard in reading, writing and maths at KS1 exceeded the national figure by 10 percentage points (70% against 60%).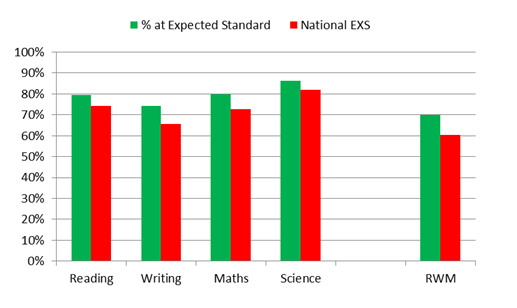 55% of Waltham Forest pupils achieved the standard in reading and maths tests and were at or above the expected standard in the writing teacher assessment. This was two percentage points above the estimated national average.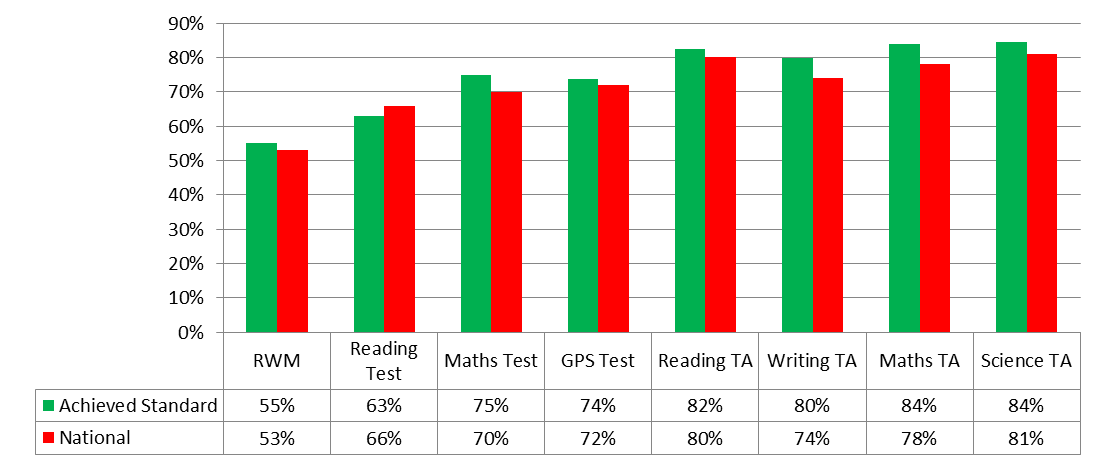 Secondary
All 17 schools with KS4 provision in the borough are rated as good. However, there are no outstanding secondary schools in the borough. In 2016, the proportion of pupils attending Good or Outstanding secondary schools increased from 73% to 100%.
In 2015 the proportion of pupils achieving at least five GCSEs at A* to C including English and maths increased by 0.7 per cent to 57.4. Four secondary schools had less than 50% of pupils attaining five GCSEs at A* to C including English and maths.
The School Challenge is currently in development, which will offer secondary schools a way of learning from and supporting each other to improve further.
Post-16
The average KS5 point score per Waltham Forest student in 2015 decreased from 2014 by 13.9 points and was below the national average. There is both a weak academic offer and lack of apprenticeships and vocational provision at the post-16 level. A review of post-16 provision is due to start in September and this should provide additional energy and focus for improving the offer to this age group.
The data on this page were correct at the time the 'Ambition for Education in Waltham Forest' strategy document was finalised (August 2016).
Last updated:
Thursday, 18 February, 2016
Last updated:
18 February 2016 by Barry Fong