Outcomes
Early Years
The Early Years Foundation Stage Profile (EYFSP) records and publishes outcomes data for ages 0-5. The EYFSP is an assessment conducted by schools at the end of the Reception Year. As well as individual judgements about the development of each child in different areas of learning, the EYFSP includes an assessment of whether each child has reached a 'good level of development', based on criteria set by the government.
The EYFSP was first published in 2009. In 2012, the government introduced a new EYFS Profile and the criteria for a good level of development changed, including an increased focus on attainment in physical development, literacy and mathematics.
A 'Good Level of Development' is now defined as the number and proportion of children achieving at least the expected level within the three prime areas of learning: communication and language; physical development and personal, social and emotional development; and the early learning goals within the literacy and mathematics areas of learning.
In Waltham Forest, the proportion of all children who achieved a good level of development in 2014 using this standard was 63%. This has risen considerably from the previous year figure of 56%. This figure is higher than both the London and England average. Waltham Forest has continued to perform much better with respect to pupils on free school meals who achieved a good level of development. Almost 58% of children on free school meals in Waltham Forest achieved a good level of development in 2014, compared with 52% in London and 45% in England overall.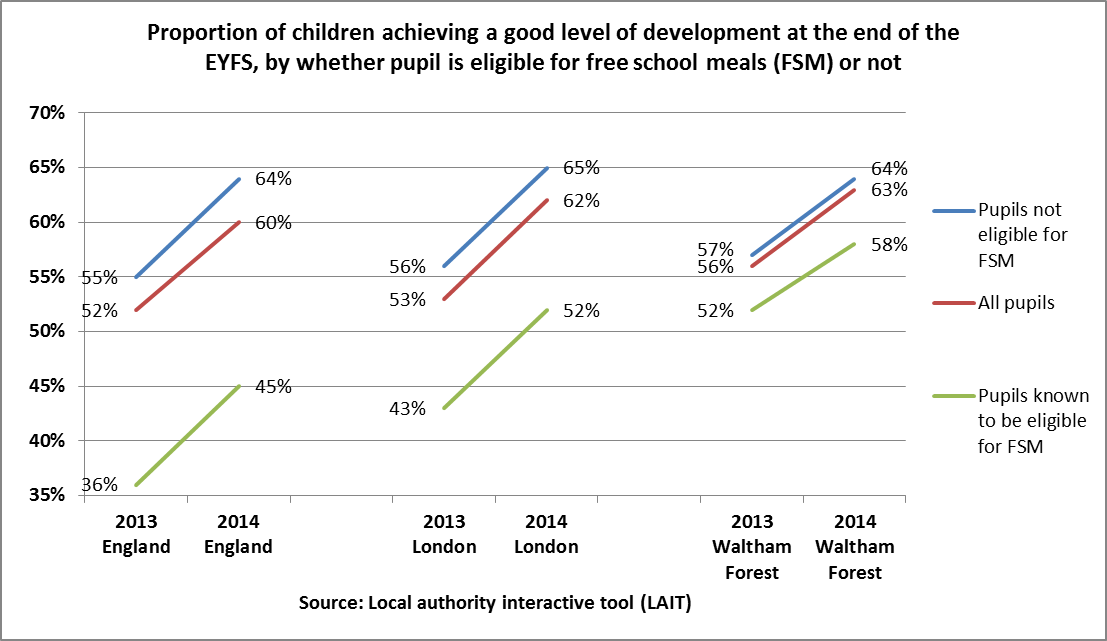 Key Stage 2
In Waltham Forest, 81% of children attained L4+ in Reading, Writing and Mathematics combined. This is 2% above the national average but remains 1% below the London average. Incidentally, progress in all subjects at the KS2 phase for Waltham Forest is above the national average and is ranked 12th nationally for mathematics.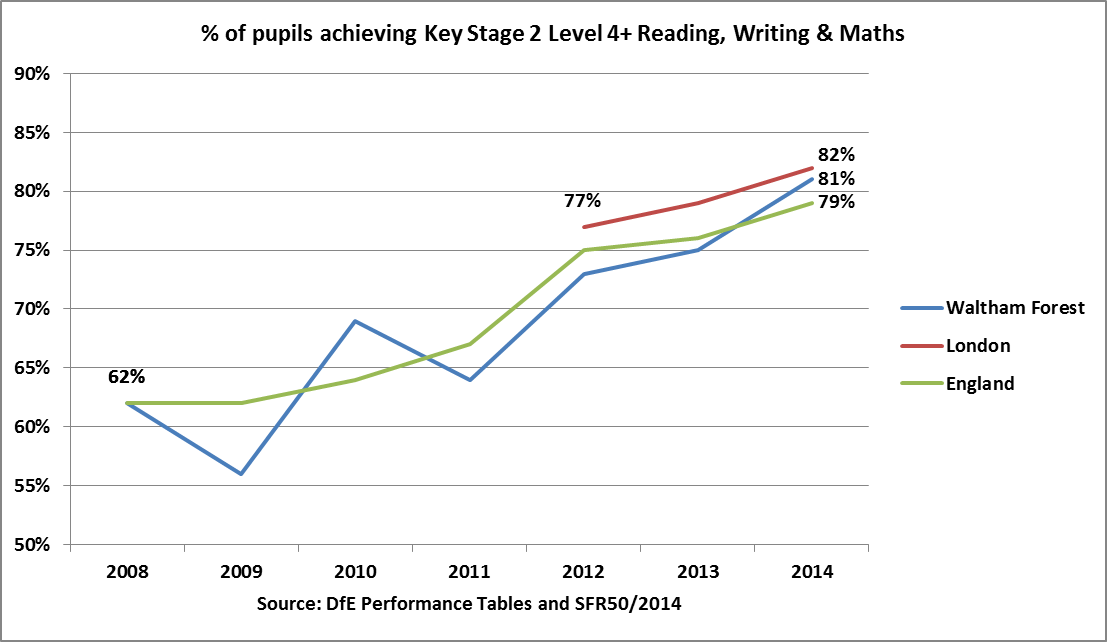 Key Stage 4
Waltham Forest now performs better than the national average, but still remains below London averages. Whilst the London and national averages have dropped considerably at the KS4 phase for the percentage of pupils achieving 5 or more A*-C GCSE grades, performance rates in Waltham Forest have stabilised. This can be considered to be a significant achievement.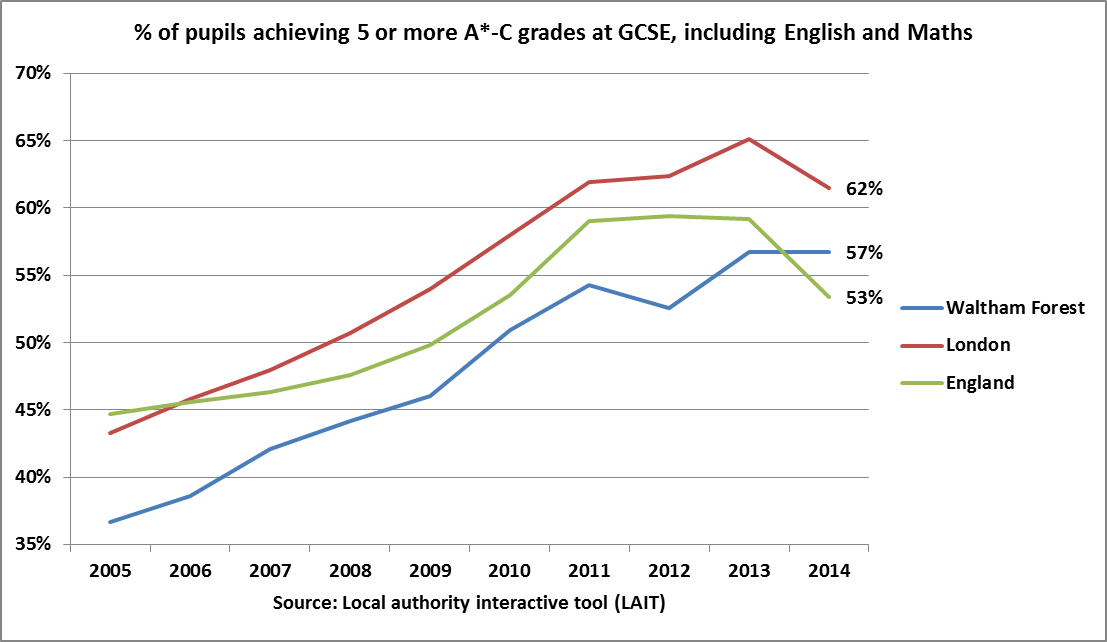 Vulnerable Groups 
KS2 and KS4 achievement gaps have traditionally been much smaller than national average, but in part this was due to low overall attainment.  It is important that we improve overall attainment whilst continuing to close achievement gaps.
The KS2 achievement gap has now been reduced to 10%, which is lower than both the London and national average. In 2014, 73% of FSM eligible pupils achieved the expected standard compared to 65% in 2013, which is an increase of 8%. 
Whilst the performance gap widened at the KS4 phase across London and nationally, the performance gap remains significantly smaller in Waltham Forest.
Target Groups
We expect the outcomes for all children and young people in Waltham Forest to be at least in line with national averages and that no group is below the national floor standard.  Data suggests that boys, those with high prior attainment and Black African children and young people are more likely to under-achieve in Waltham Forest and we will therefore encourage schools to closely monitor the achievement of children from these groups and intervene if necessary. 
Although a significant performance gap remains between boys and girls in 2014, the standard for boys has continued to improve. Pupils with high prior attainment at both the primary and secondary phase are now performing better than the national average for high attainers. 
Last updated:
21 April 2015 by Admin Admin